Navigant research's new research shows that the basic economy, local electricity prices and government incentives are rapidly driving the growth of distributed energy resources, including micro power grid and solar + energy storage. On site power generation, battery storage and micro grid have become a solution for increasing the use of renewable energy and grid flexible grid, and reducing energy cost. Other benefits include reducing the loss of centralized transmission systems, it may also lessen future transmission projects, and avoiding complicated approval procedures of large- scale energy projects.
The research company's new report also includes energy storage, demand response, electric vehicle charging and energy efficiency into the definition of distributed energy.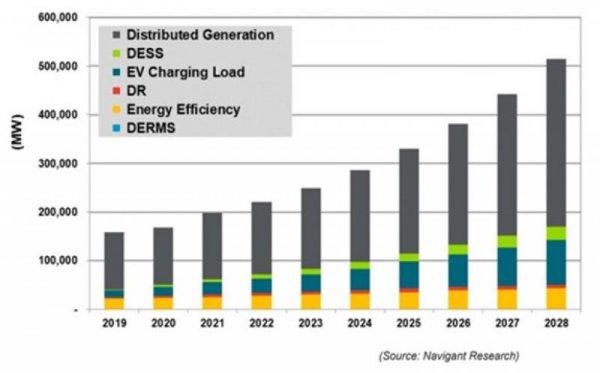 Annual installed distributed energy power capacity, global market: 2019-2028
Roberto Rodriguez labastida, senior research analyst at Navigant research, said in an interview: "In many markets, decentralized energy resources are simpler, especially solar + energy storage. This growth will continue - largely based on sustainability needs and the economy: now you install a system in your facility that can provide similar services at the same or lower cost as the grid. "
The new Navigant report is called Global DER Overview: Market D rivers and Barriers, Technology Trends, Competitive Landscape and Global Market Forecasts。
The report predicts that the distributed energy capacity will reach 158.3GW in 2019 and nearly 345GW by 2028. Among them, about 245GW comes from solar photovoltaic device, while 93GW comes from the EV charging station.
With the expansion of the market, the revenue growth of related industries has been promoted. The research company said, the number will reach $172.5 billion by 2019, and could reach about $650 billion by 2028, with a CAGR of 15.9%. Distributed generation will generate $131 billion in 2019 and $527 billion in 2028 in revenue, about $480 billion came from distributed photovoltaic installations. The energy efficiency market is expected to generate about $28 billion by 2019, revenue will reach US $58 billion by 2028 according to the report.
There are undoubtedly some market barriers. They include limited customer awareness, decentralized value chains, and expensive communication infrastructure. The study also refers that it is necessary to establish a comprehensive financial model to show the market that investment in on-site power generation and micro grid is feasible.
said Labastida of Navigant said "At the beginning, distributed energy assets were heavily subsidized. They now need less government support to keep growing. The cost of these technologies continues to decline, especially solar + energy storage technology. The market is price sensitive, including residential, commercial and industrial sectors, there will be significant growth in those areas. "
Source: china-nengyuan.com
Translated by: Shanghai Green Tech Co., Ltd.